Client Social- Friendsgiving
November 15 @ 5:00 pm
-
7:00 pm
Aviv Clinics
2955 Brownwood Blvd. #100, The Villages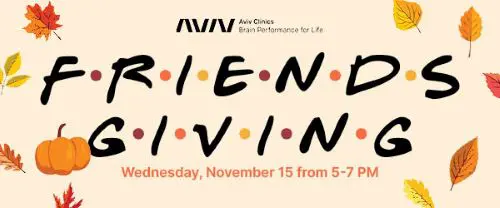 About the event
Aviv is there for you!
It's Friendsgiving time and we are so glad to have friends like you!
Come gather with us on Nov 15 at 5pm to express gratitude, love and well wishes for those around us.
Enjoy turkey and other delicious classic dishes and raise a toast that lasts all night long!
Join your dive mates, invite your friends and even grab a cup of joe at Aviv's Central Perk!
Register today!
"You can't have Thanksgiving without turkey. That's like fourth of July without apple pie, or Friday with no two pizzas." -Joey Tribbiani.
Registration for the event